The momentous step was by Late Shri. Shyam Lal Gupta in 1939 in a narrow, insignificant by-lane of Chandni Chowk with a marked determination, zeal. The philosophy that drove the man was that an underdeveloped country like India could only move forward if people were educated.The objective was clear, to make educational content by Indian authors at an affordable prices to students.

Today S. Chand group is the oldest & the largest publishing & education service enterprise.

He was the visionary behind setting up federations and associations for the Indian publishing industry. Shyam Lal Gupta's years of dedication and efforts were recognised by the government of India when he was awarded the coveted 'Padma Shree' in 1969 – the civilian award for excellence and distinguished service to the country and was elected to Rajya Sabha from Bihar in 1972.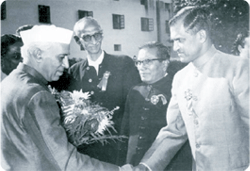 To take the legacy forward, Late Mr. Rajendra Kumar Gupta, with his marketing and project management background capably handled a wide range of projects and tasks. He was a good team player and an able leader. He was the vice-chairman of Capexil Books Panel and former member of the National Book Development Council, Government of India, New Delhi. He also held similar posts in many other apex organizations. He left a void in the organization when a car accident tragically claimed his life in 1999. Even today he is widely remembered by the publishing industry worldwide and is missed internationally for his commendable role in spearheading and promoting Indian publishing worldwide.
Mr. Ravindra Kumar Gupta continued the legacy of his father and enabled the group to scale new heights in the field of Publishing & Education. As a creative powerhouse, he had been involved in a host of activities as a producer, publisher and creator. He brought substantial hands-on experience of printing integrated with his passion for excellence to move S. CHAND to a new level of excellence.
"S. Chand holds dominant position among the CBSE and ICSE schools with 7500 titles and 1000+authors along with footprints across the nation with 20 branches, 5 marketing offices and state of the art printing and publishing facilities.