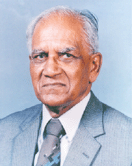 Founder Late Mr. Shyam Lal Gupta
S. CHAND
Group has built its equity over the years. This recognition has definitely not come overnight and is the result of years of devotion and dedication of visionaries. Prominent amongst them being
Late Mr. Shyam Lal Gupta
, the founder who had set up this dynamic enterprise from scratch way back in 1937. In 1964, he set up the Shyam Lal College in New Delhi , India.
He was the visionary behind setting up federations and associations for the Indian publishing industry.
Shyam Lal Gupta's
years of dedication and efforts were recognised by the government of India when he was awarded the coveted
Padma shree in 1969
– the civilian award for excellence and distinguished service to the country and was a member of Indian Parliament.